When Stephen McDonald and Dr. Phil Connors first met to discuss the prospect of a humanitarian accreditation, the ideas generated in their early conversation eventually grew to form the Humanitarian Leadership Programme or HLP (now the Graduate Certificate of Humanitarian Leadership).
In turn, the development of the HLP provided a blueprint for the Centre's early beginnings, and a unique framework for learning that blends humanitarian experience with academic rigour.
Early beginnings: ideas on envelopes.
As a result of those early conversations, the Humanitarian Leadership Programme, or HLP, was developed in close partnership between Deakin University and Save the Children.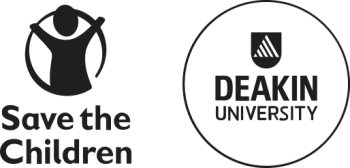 We started to map out, literally on the back of an envelope, how to develop what is now the Graduate Certificate of Humanitarian Leadership. And in January of 2012, we taught our first unit.'—Dr. Phil Connors, Director of the Centre for Humanitarian Leadership.
The innovative approach for the programme was created to provide students with the best of both the founding institutions: blending the practical humanitarian experiences gleaned from a network of practicing aid professionals with leading academic research and teaching methodologies.
Traditionally, whenever there is a crisis of leadership in a humanitarian response, the solution has been to add in a system or process. But the problem wasn't the system. The problem was we weren't populating it with the people who have the appropriate experience, skills, and behaviours.'—Stephen McDonald, Co-Director of the Centre for Humanitarian Leadership.
With seed funding from the Australian Aid Programme and ongoing contributions of expertise, endeavour, and personnel from partners like World Vision and Oxfam, the Humanitarian Leadership Programme was brought to life.
Going global: partnering with the IKEA Foundation.
After a period of proven success in upskilling leaders in the Australasian region, Stephen McDonald, Phil Connors, and Sophie Perreard (Course Director of the HLP/GCHLF) submitted a proposal to help the HLP evolve, grow, and serve the needs of a global community of humanitarians.
The proposition was submitted to the IKEA Foundation, who today remain an essential partner of the Centre for Humanitarian Leadership.
The IKEA Foundation improves opportunities for children experiencing poverty in some of the world's most challenging places by providing funding for programs that create lasting, tangible change.
The successful proposition provided the capacity to take the HLP to the rest of the world. In turn, it  provided a blueprint to create the Centre for Humanitarian Leadership, and changed the way the humanitarian sector trains and operates.